1st Annual Mobile CSP Expo is a Huge Success!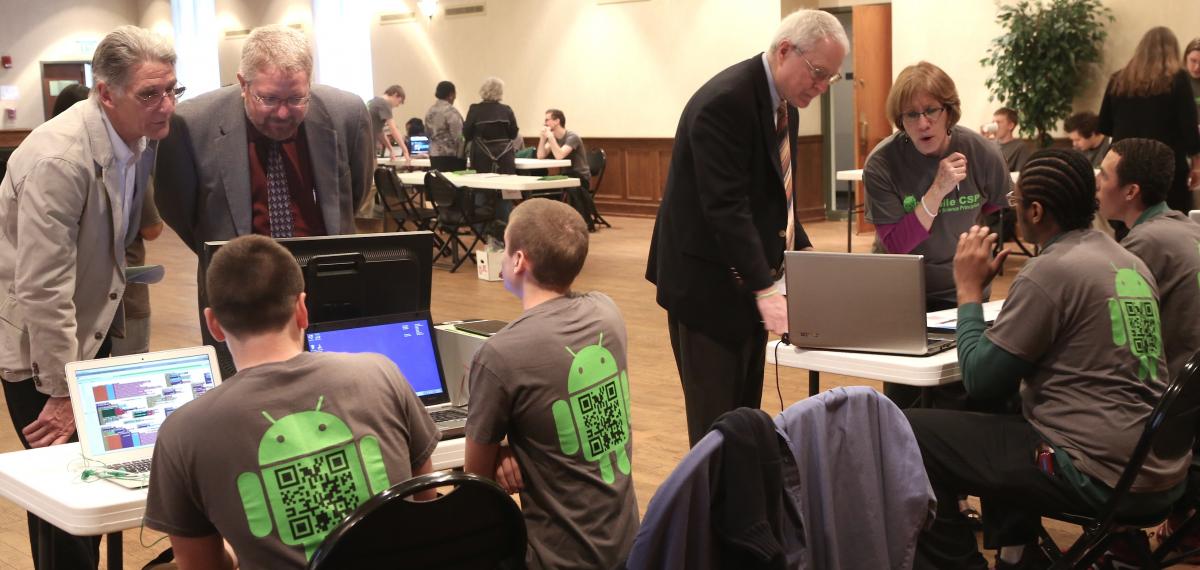 (Back Left to Right) Ralph Morelli, Dean Thomas Mitzel, Michael Salius, and Trish Torruella.
On Thursday, May 22nd, the 1st Annual Mobile CSP Expo was held at Trinity College. Students who participated in the Mobile CSP course during the 2013-2014 academic year were invited to demonstrate the apps they had created during the course. Approximately 50 students participated in the event.
Attendees had the opportunity to walk around the room and try out the various mobile apps. After two 45 minute viewing sessions, the attendees were asked to vote for their favorite app. The apps with the most votes earned the Mobile CSP People's Choice Award.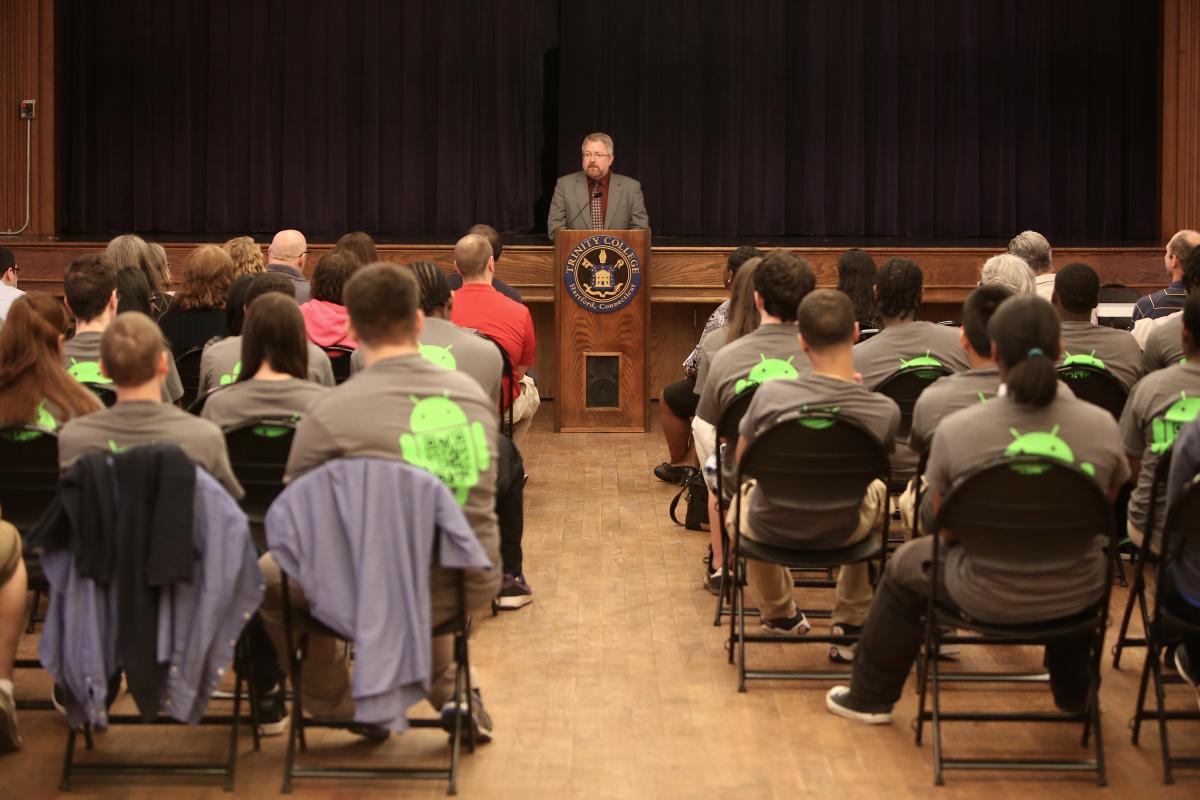 Dean Thomas Mitzel gave opening remarks.
Among those in attendance was Dean Thomas Mitzel, Trinity College's Dean of Faculty and Vice President for Academic Affairs. After the first 45 minute viewing session, Dean Mitzel gave some great welcoming remarks. Dean Mitzel was followed by Chinma Uche, President of the Connecticut Computer Science Teachers Association and Mobile CSP Co-Principal Investigator and also Ralph Morelli, Trinity College Professor of Computer Science and Mobile CSP Principal Investigator.
Also in attendance were Michael Salius and Trish Torruella (Hartford's Department of Children and Families), 5 members of the Mobile CSP 2013 cohort, and 5 members of the Mobile CSP 2014 cohort. Members of the Trinity College community and the Hartford community also attended the event.
Mobile CSP People's Choice Award Winners:
1st Place - "Midnight Mayhem", created by David Deer and Raykwon Kerr from Hartford Public High School's Academy of Engineering and Green Technology. Both students took home a new tablet.
2nd Place - "Emergency Messenger", created by Kristopher Marques, Sean McCarthy, and Eliot Serrano from Hartford Magnet Trinity College Academy. The students had their choice of $25 Best Buy gift cards and 16GB Micro SD cards.
3rd Place - "Rescue Me", created by Liam Griffin and Thomson Kelly, from Hartford Magnet Trinity College Academy. Both students took home a $10 Best Buy gift card.
Thank you to everyone who participated and helped make our 1st Annual Expo a success!