Mobile Apps for Hartford: High School Students Unveil Their Apps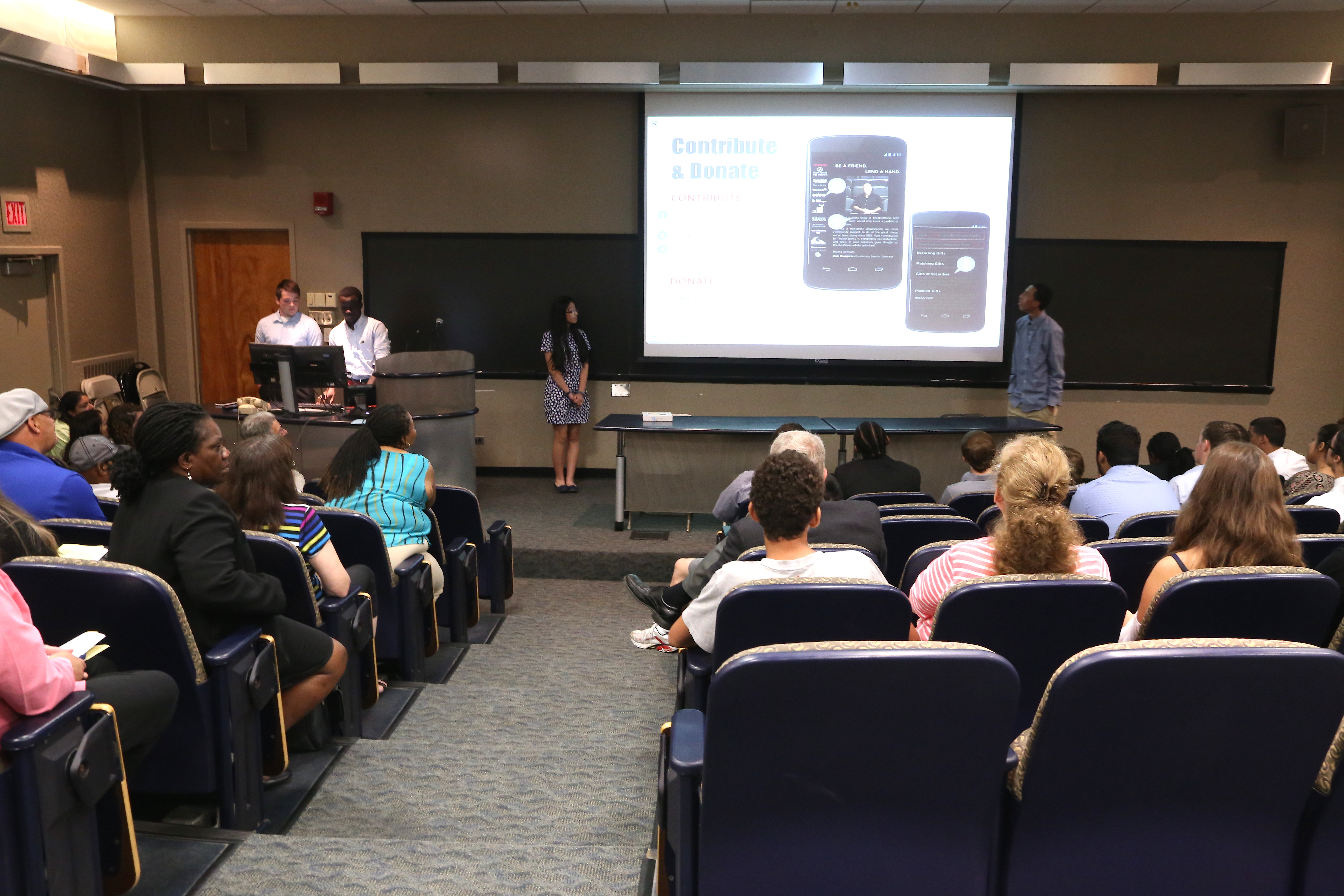 Theaterworks team is presenting their apps. (From left to right, Sean McCarthy, Owusu Darko, Alicia Chiang, and Raykwon Kerr)
Twenty high schools students from Hartford area presented their apps at McCook auditorium, Trinity College at Aug 15, 2014. During six week internship with the Mobile Apps for Hartford, they have developed mobile apps for their clients, six public or non profit organizations in Hartford. On the last day, they demonstrated their apps. The clients were impressed by and satisfied with the apps, and some organizations are actually planning to launch the apps for themselves. Among the clients was Mayor of Hartford Pedro Segarra, and he handed in the certificates to interns.
Participating Clients and Developers
Old State House: harles Bittner, Alan Jackson, Greidy Montalvo, Kevin Paradis
Department of Families, Children, Youth, and Recreation - Youth Services Division: Samad Ahmad, Justin Angeles, Joseph Bodington, Rasheeda Samih
YOUMedia, Hartford Public Library: Tatianya Ashley, Thomson Kelly, Amanda LaManna, Obdulio Santiago
RiseUP: Samad Ahmad, Justin Angeles, Joseph Bodington, Rasheeda Samih
TheaterWorks: Alicia Chiang, Owusu Darko, Raykwon Kerr, Sean McCarthy
The Mayor of Hartford: Nyasia Bagot, David Deer, Kristopher Marques, Benjamin Trueax
Interns were chosen among students who were taught by Mobile CSP PD teachers last year and learned App Inventor. Lead instructor was Joseph Kess, who participated the Mobile CSP PD program last year and taught the course at Wethersfield High School. Two mentors from Trinity College, Christine Boyle'15 and Kenneth Thomas'17, assisted interns to develop better apps, encouraging them to learn further and go advanced.
Here are
some pictures
and
the full version video
of the presentation.
To download and explore the apps, please click Mobile Apps for Hartford QR code handout.
Here is the Mobile Apps for Hartford slideshow. Check out what the interns did for six weeks this summer.